Mixer Yamaha LS9 – 32 có trọng lượng nhẹ, máy trộn kỹ thuật số nhỏ gọn với các tính năng tiên tiến và chất lượng âm thanh vượt trội.Với 32 đầu vào amps đầu LS9-32 có thể thoải mái xử lý các yêu cầu nguồn phức tạp và đa dạng được trình bày bởi một loạt các ứng dụng âm thanh trực tiếp, bạn luôn yên tâm khi biết rằng bạn có thể mở rộng lên đến 64 kênh bởi chỉ cần thêm tiền khuyếch đại bên ngoài và Mini – YGDAI card giao diện cho những đòi hỏi thêm line-up.
Estimated Delivery 2 to 3 days
Massive Digital Mixing Power
Made for portable live sound, Yamaha Commercial Audio LS9 consoles pack a staggering amount of production power in a surprisingly simple and perfectly portable package. This 64-channel LS9-32, with its extended fader bank and 32 mic/line inputs, weighs under 43 lbs., and its little brother, the 32-channel LS9-16, only weighs about 27 lbs. And when you consider the ample routing options, multimode faders, extensive onboard processing, and remote-control options below its refreshingly intuitive interface, you'll never look at sound reinforcement the same way again.
Next-gen Yamaha Ergonomics
Straightforward controls meet total settings recall
Over generations of digital mixing consoles, with such standouts as the PM1D, PM5D, and M7CL, Yamaha has had many opportunities to perfect their portable digital mixing console interface. With its streamlined set of master-section controls and logically positioned buttons and encoders, you'll never have to dig deep or scramble for the right knob when you need to tweak a setting on your LS9 console. No matter what screen you're on, if you need to get back to the main screen, just hit the Home button — it's that simple. And with the LS9's incredible scene memory, you can dial in your base settings once and have them ready to go for every show.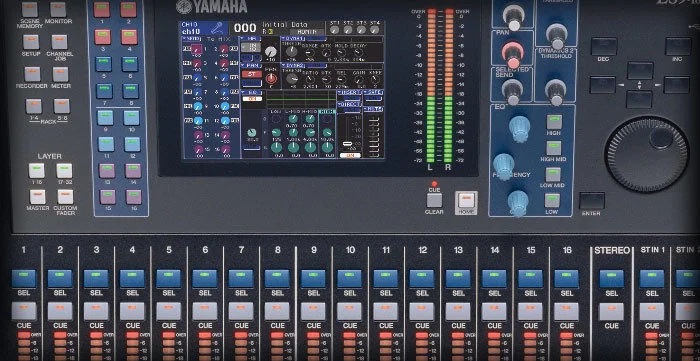 Impressive Bus Capacity
Loaded with the internal and external routing you need
One of the things that active live sound engineers here at Sweetwater really dig about the LS9 is the extensive routing capacity Yamaha loaded it with. This includes 16 mix buses, which you can assign as either your auxiliaries or groups, plus an additional eight matrix buses. This LS9-32 model also sports 16 analog Omni Out connectors, and you can assign any of the stereo, mix, or matrix buses to them, giving you the flexibility you need to send feeds to your recording rig, set up monitor mixes, and much more. And if you need more I/O, you can always add cards such as the MY8-LAKE, Dugan-MY16, or one of Yamaha's high-speed Ethernet protocol cards.
Ultra-versatile Faders
Multifunction faders streamline send setup and more
Like the channel faders on any mixing console, the primary purpose of the LS9's faders is to dial in the mix. But these motorized faders offer a whole lot more as well. For instance, you can create custom fader layers that show only the drums or place all of your group masters next to one another. When you're dialing in monitor mixes, the LS9's Sends on Faders mode really speeds things up. Cooler still, there's DSP for up to 16 graphic EQs onboard your LS9, and you can dial them in via these same highly responsive faders.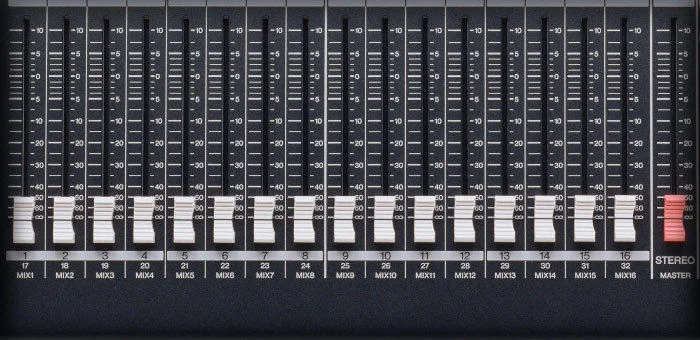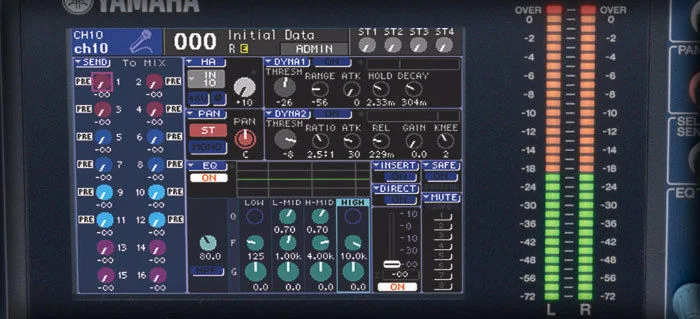 A Rack Full of DSP
Tap into serious onboard DSP for effects and processing
Graphic EQs are just one of the things you won't need in your equipment rack when you step up to a Yamaha LS9 digital mixer. Onboard, there's a comprehensive Virtual Rack totally loaded with EQs and multi-effects processors. In total, you get four multi-effects processors, each loaded with 48 preset effects such as the lush REV-X reverb, various delays, and cool modulations as well. And that's all in addition to the 4-band parametric equalizer and an array of dynamics processing available on each input and output.
Awesome Remote Control
Remote mixing options provide serious convenience
Yamaha's LS9 series offers you advanced remote control to make everything from general setup to soundchecking super convenient. For starters, you can connect your LS9 to your computer, giving you a comprehensive real-time display of selected channels and allowing you to manage settings and other functions. Similarly, an iPad application gives you wireless access to your LS9's mix functions, allowing you to dial in monitor mixes from the stage or tweak the mix from the audience's perspective.
General specifications
Outline
LS9-16
LS9-32
Mixing capability
Mixing channels
32 Mono + 4 Stereo
64 Mono + 4 Stereo
GROUP
16 MIX (Group/AUX) busses
16 MIX (Group/AUX) busses
AUX
16 MIX (Group/AUX) busses
16 MIX (Group/AUX) busses
MAIN
Stereo, Mono
Stereo, Mono
MATRIX
8
8
Input channel functions
HPF, Attenuator, 4-band PEQ, 2x Dynamics, Pan (LR or LCR with CSR)
HPF, Attenuator, 4-band PEQ, 2x Dynamics, Pan (LR or LCR with CSR)
Output channel functions
Attenuator, 4-band PEQ, Dynamics
Attenuator, 4-band PEQ, Dynamics
On-board processors
4x GEQ, 4x GEQ/SPX (GEQ: 31-band or 2x Flex15), 50x Output port delay
4x GEQ, 4x GEQ/SPX (GEQ: 31-band or 2x Flex15), 66x Output port delay
I/O
Mic inputs
16 (Recallable)
32 (Recallable)
Phantom power
+48V DC; ON/OFF per channel
+48V DC; ON/OFF per channel
AD converter
24-bit; 128-time over sampling
24-bit; 128-time over sampling
Line outputs
8 Omni output
16 Omni output
DA converter
24-bit; 128-time over sampling
24-bit; 128-time over sampling
Digital I/O
2tr in/out, USB Memory Recorder/Player
2tr in/out, USB Memory Recorder/Player
Expansion slots
Mini-YGDAI (16-in/16-out); Possible to remote HA gain via slot
2x Mini-YGDAI (16-in/16-out); Possible to remote HA gain via slots
Control and others
Ethernet, MIDI, USB (Storage/Key), Word clock I/O
Ethernet, MIDI, USB (Storage/Key), Word clock I/O, Lamp
General specifications
LS9-16
LS9-32
Internal processing
32bit, Accumulator: 58bit
32bit, Accumulator: 58bit
Sampling frequency rate
Internal
44.1kHz, 48kHz
44.1kHz, 48kHz
External
44.1 kHz (-10%) to 48 kHz (+6%)
44.1 kHz (-10%) to 48 kHz (+6%)
Signal delay
Less than 2.5 ms (@48kHz)
Less than 2.5 ms (@48kHz)
Total harmonic distortion
Less than 0.05% (20Hz-20kHz)
Less than 0.05% (20Hz-20kHz)
Frequency response
0, +0.5, -1.5dB 20Hz-20kHz
0, +0.5, -1.5dB 20Hz-20kHz
Dynamic range
DA: 110dB; AD+DA: 108dB
DA: 110dB; AD+DA: 108dB
Hum & noise level
Equivalent input noise
-128dBu
-128dBu
Residual output noise
-86dBu
-86dBu
Crosstalk
-80 dB Adjacent Input Channels, Input to Output
-80 dB Adjacent Input Channels, Input to Output
Power requirements
AC100-240V 50/60Hz
AC100-240V 50/60Hz
Power consumption
95W
170W
Dimensions
W
480mm; 18-7/8in
884mm; 34-13/16in
H
220mm; 8-11/16in
220mm; 8-11/16in
D
500mm; 19-11/16in
500mm; 19-11/16in
Net weight
12.0kg; 26.5lbs
19.4kg; 42.8lbs
Accessories
Owner's Manual, AC Power Cord
Owner's Manual, AC Power Cord, Dust Cover
Analog input characteristics
Analog input characteristics
Input terminal
Actual load impedance
For use with nominal
Input level
Connector
GAIN
Sensitivity
Nominal
Max. before clip
INPUT 1-n*
-62dB
+10dB
3kohms
50-600 ohm Mics & 600ohm Lines
-82dBu
-62dBu
-42dBu
XLR3-31 type*
-10dBu
+10dBu
+30dBu
* LS9-32: n=32, LS9-16: n=16
Analog output characteristics
Analog output characteristics
Output terminal
Actual source impedance
For use with nominal
GAIN SW
Output level
Connector
Nominal
Max. before clip
OMNI OUT 1-n*
75ohms
600ohm Lines
+24dB**
+18dB
+4dBu
-2dBu
+24dBu
+18dBu
XLR-3-32 type
PHONES OUT
15ohms
8ohm Phones
–
75mW
150mW
ST Phone jack
40ohm Phones
–
65mW
150mW
* LS9-32: n=16, LS9-16: n=8
** Default
Digital output characteristics
Digital output characteristics
Terminal
Format
Data length
Level
Connector
2TR IN DIGITAL
COAXIAL
IEC60958
24bit
0.5Vpp/
75ohms
RCA pin jack
2TR OUT DIGITAL
COAXIAL
IEC60958
(Consumer Use)
24bit
0.5Vpp/
75ohms
RCA pin jack
Control I/O characteristics
Control I/O characteristics
Terminal
Format
Level
Connector
NETWORK (Ethernet)
100Base-T
–
RJ45
MIDI
IN
MIDI
–
DIN-5pin
OUT
MIDI
–
DIN-5pin
WORD CLOCK
IN
–
TTL/75ohms, Terminated
BNC
OUT
–
TTL/75ohms
BNC
LAMP *
–
0V-12V
XLR-4-31 type
USB HOST
USB1.1
USB **
A type USB Connector